Cambridge has an exciting range of restaurants, from hole-in-the-wall cafes to upscale, chef-driven eateries. Whether you're craving pasta, ramen, or waffles, this diverse food scene has something for everyone. You can order to-go or stop by for outdoor dining. Here are 10 of Cambridge's most notable restaurants with outdoor seating.


1. Harvest
Whether you're celebrating a birthday, anniversary, or just a regular Tuesday night, we've got a great place in mind for you. Located in Harvard Square, Harvest is a dining experience you don't want to miss. This elegant restaurant specializes in a modern New England menu and expertly prepares its dishes using the region's freshest ingredients.

Harvest is located along a cobblestone pathway and emits a warm and welcoming ambiance. The inside features a newly designed kitchen and an expansive bar. While indoor dining is closed, you can enjoy dining outdoors in the immaculate Garden Terrace. This garden patio includes linden trees that offer shade, blooming flower boxes, and heaters for chillier nights.

With so much to offer, it's no wonder that Harvest has been applauded by various publications, including Travel & Leisure, Boston Magazine, Zagat, and The Impromptu Bostonian. Don't forget to make reservations in advance to ensure your spot!
2. Area Four
Craving some cheesy, delicious pizza? Then head on over to Area Four! Since first opening its doors in 2011, Area Four has become one of the most popular pizza joints in the city. They believe that great food comes from great ingredients that are raised and harvested locally — and sustainably. They usually prioritize local ingredients that help the environment, local economy, and overall health. This stylish cafe and bakery features decadent pizzas made from dough fermented for 30 hours.

And that's not all Area Four offers! You can also order an espresso, salad, or sandwich. Brunch is served on weekends and includes everything from sticky buns to breakfast pizzas. Needless to say, there's something for everyone here. Whether you stop by for brunch or dinner, the outdoor patio is the perfect place to enjoy your meal. Plus, unbeatable prices and top-notch customer service are just a couple more reasons customers quickly become regulars.
3. Orinoco Harvard Square
Nestled in Harvard Square, Orinoco serves up delicious Venezuelan food. Appetizers include enticing dishes such as the cocas del dia (flatbreads), datiles (bacon-wrapped dates), and empanadas. Main dishes include asado negro (slow-cooked beef with rice and plantains) and polvorosa de pollo (similar to a chicken pot pie), along with a variety of other tempting dishes.

The menu includes family recipes that masterfully blend the flavors and cuisines of the Andes and the Caribbean, all created using fresh, locally sourced ingredients. In addition to a bold and flavorful menu, Orinoco also offers South American wines, beers, and fruit drinks. If you plan on coming here for dinner, please note that it is walk-in only and does not take reservations. The outdoor dining consists of a spacious, airy patio.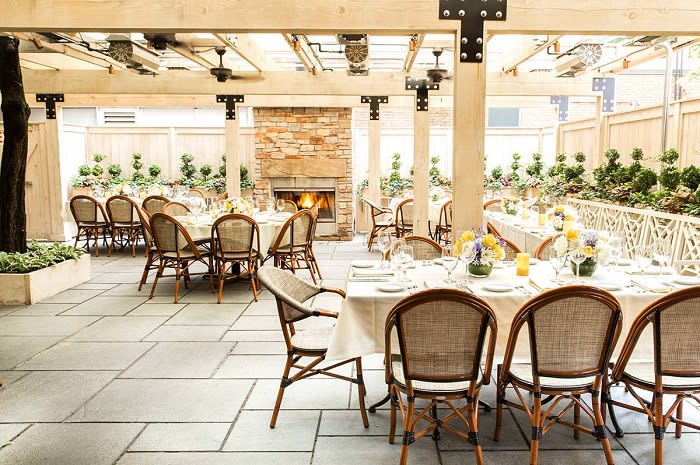 Credit: Harvest Cambridge
4. Cafe Luna
Since being established in 2007, Cafe Luna has become one of Cambridge's most sought-after breakfast nooks. This family-owned and operated cafe specializes in breakfast and brunch. Additionally, they offer an affordable hand-picked wine list, plus cordials and beer on tap. The breakfast menu has many exciting dishes, including a Greek omelet, smoked salmon with bacon and avocado, and crab cake and avocado. Breakfast is served all day, starting at 9 AM.

For brunch, consider trying the famous french toast fantasy! The lunch menu includes brussels sprouts and fig salad, wings and waffles, and a black bean and quinoa veggie burger. Whether you come here for breakfast or lunch, you won't be left disappointed! The outdoor dining is still open, but reservations are recommended.
5. Oleana
Traveling might be out of the question now, but this elegant restaurant will make you feel like you're in the Mediterranean. Located on Hampshire street, Olena has been a part of the Cambridge community since it was initially established in 2001. This fine dining establishment aims to offer a dining experience like none other. Olena specializes in Eastern Mediterranean cuisine, and their bold menu is nothing short of impressive. Some of the most popular menu items here include a chickpea crêpe with smoked cinnamon aioli and lamb steak with Turkish spices and fava bean moussaka. The wine list has been carefully designed to complement the style of herbs found in these dishes.

After dinner, satisfy your sweet tooth by indulging in some of the inspiring desserts. The ice creams are both inventive and inspiring. Consider trying the coca-rose with a date-rose truffle, or perhaps the salted butter ice cream with a pumpkin-brown butter crêpe. The outdoor patio is equally as impressive. It features a fountain, herb garden, and fig tree, making it the perfect place to enjoy a summer evening. This garden oasis perfectly compliments the exceptional customer service and delicious dishes found here.
6. The Red House
Looking to partake in a seafood experience like no other? Just wait until you see everything The Red House has in store! Located in Harvard Square, this refined seafood restaurant first opened in 2010. Since then, it has evolved into an exquisite dining option that offers a dignified menu. The seasonal, ever-changing menu features a variety of seafood, poultry, and pasta dishes. Here you can enjoy some classic New England seafood dishes as well as a full-service raw bar. Farm-to-table specials are sourced directly from The Red House's very own organic farm.

In addition to a plethora of exciting dishes, this chic eatery also features craft cocktails and wines. Cocktails include unique inventions, such as the earl gray lavender cocktail or blackberry ginger. The outdoor dining features wooden booths, charming lights, and heaters for chilly nights. This delightful outdoor dining will make your experience here that much more memorable.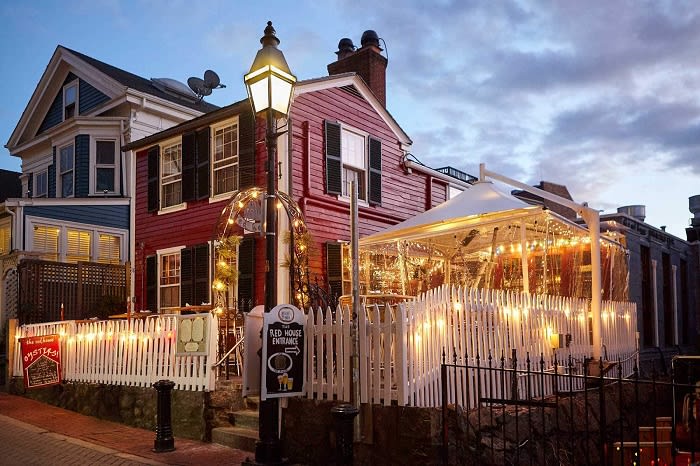 Credit: Harvard Square
7. Charlie's Kitchen
Looking for somewhere to enjoy a casual night out with friends or date night? Charlie's Kitchen is a relaxed gastropub located in Harvard Square. This local institution has been around for 65 years and gives off a 1950s-style diner ambiance. Charlie's Kitchen specializes in late-night burgers and beers, plus a year-round beer garden. Select some brews from the menu, which includes 22 draught beers. In addition to the quaint beer garden, the sidewalk patio provides additional outdoor seating.

Popular appetizers include jalapeno poppers and homemade clam chowder. The double cheeseburger king is inarguably the most popular burger here, but there are plenty of other varieties of burgers to browse. If you're not interested in burgers, there are other options, too! Consider trying the famous sourdough double cheese grilled cheese or beer-battered fish and chips. Charlie's Kitchen has something for everyone!
8. Alive and Kicking Lobsters
If you're looking for a more casual dining experience, head over to Alive & Kicking Lobsters. This hidden Cambridge restaurant, located on Putnam Street, is located in a residential neighborhood nook. Alive & Kicking Lobster has an extensive menu offering a variety of seafood options. Here you can grab a steaming hot bowl of clam chowder, crab cakes, and steamers (a staple in New England). However, they are especially famous for their mouthwatering lobster sandwiches. This dish is a must-try for any visitors who happen upon this hidden gem. Additionally, there's plenty of outdoor dining, so you'll be able to (safely!) enjoy dining here while enjoying your meal.
9. Sofra Bakery and Cafe
Established in 2008, Sofra Bakery and Cafe is a small bakery specializing in Middle Eastern sweets and savory bites. Located on Belmont Street, Sofra offers a wide selection of pastries. Here you can find everything from baklava to Syrian shortbread to a date bun. In addition to cookies and other specialties, Sofra features a variety of lunch items. If you need recommendations or are unsure of what to get, the friendly staff members are eager to assist you. The small outdoor dining section allows customers to stop and sit for a while. Soak up the sunshine outdoors while enjoying a pastry and espresso or perhaps a lunch dish.
10. Daedalus
Daedalus once served as a greenhouse but has since been transformed into an inventive restaurant. Just a short walk from Harvard Yard, this converted greenhouse presents a New American menu and cocktails. Over the past 20 years, Daedalus has served an expansive menu featuring options for lunch, dinner, wine, beer, dessert, and cocktails. Enjoy your meal on the beautiful outdoor roof deck, and be sure to make reservations in advance!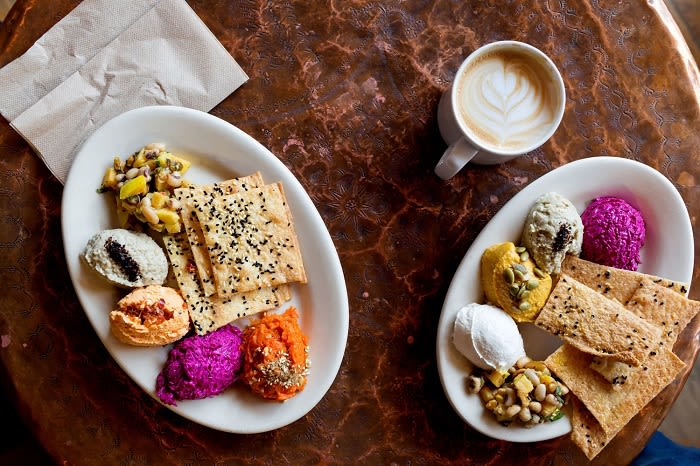 Credit: Sofra Bakery & Cafe
If you're looking to explore homes near Harvard Square or Kendall Square, contact Currier, Lane, and Young today. As some of the top Cambridge real estate agents, this talented trio serves a wide range of neighborhoods. Their expertise will guide you through the home buying process.