With warm weather rapidly approaching, it's the perfect time to start thinking of ways to get out of the house and connect with nature. Thankfully, Somerville offers plenty of exciting outdoor activities, from hiking, to biking, to water activities. Read on to discover 11 ways to get outside in Somerville.


1. Minuteman Bikeway
Take a history lesson and get your cardio in all at once on the Minuteman Bikeway. This 10-mile bike path follows the historic route Paul Revere took on his famous ride in April 1775, which is seen as the American Revolution. Running from Bedford to Alewife station, this bikeway will take you past other notable landmarks such as the Battle Green in Lexington and the Hanscom Air Force Base. The bike path is simple enough for cyclists of all skill levels. Take the kids with you, or ride it solo to take in all the history and lush greenery on your own. Not much of a cyclist? No worries! You can follow Paul Revere's ride in any way you see fit, from walking to running to rollerblading—the choice is up to you! This bikeway is a great way to experience the great outdoors and a slice of American history in a single afternoon.
2. Mystic River Reservation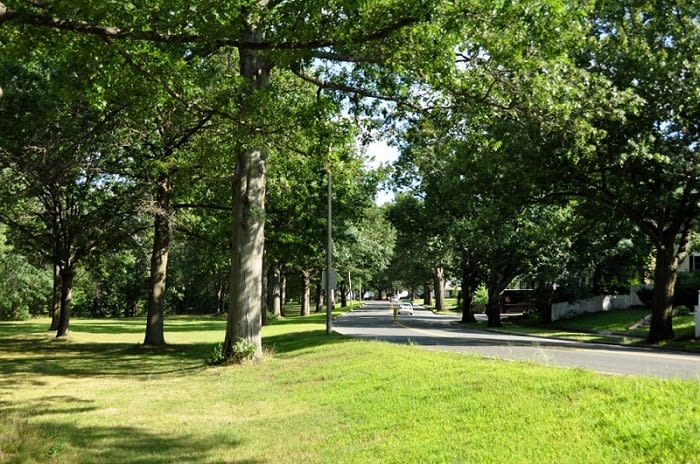 The Mystic River Reservation is known for having the most beautiful sunsets on the east coast. As a part of the Mystic River Watershed, the reservation is a publicly owned nature preserve with a 2-mile path that includes two bridges. You can look over the beautiful, calm Mystic River and the city skyline in one loop around the park! Locals love this spot for sunrise and sunset hikes because the sky reflects its stunning shades of gold, pink, and purple on the sparkling water. You can walk, bike, and even bird watch on the loop, as there are multiple look-out spots. Come here for some quiet, breathtaking views and a pleasant stroll.
3. Paddle Boston
The Mystic River Watershed has all kinds of activities for you to enjoy with the family or significant other for a fun day on the water. Paddle Boston is set up on the Mystic River in Somerville for all your water adventure needs. Experience the beauty of the river up close and personal. Kayaking and canoeing are great for couples looking to bond on the water together. Paddleboarding is perfect for an independent adventurer looking to explore the river at their own pace. There's plenty for families to enjoy here, too! The whole crew can learn to sail with Courageous Sailing. It's a perfect activity for large groups of friends as well! The Mystic River Watershed offers both gorgeous nature views and fun water activities for all. What more could you want out of a weekend?
4. Diesel Cafe
Are you really in Massachusetts if you don't have a favorite coffee shop within walking distance? Luckily for you, Somerville has plenty of options for cute and cozy coffee shops to satisfy your caffeine fix. Diesel Cafe in Davis Square has been serving the coffee-lovers of Somerville since 1999. They have an exciting menu of unique drinks that you would be pressed to find elsewhere. For example, they have a turmeric latte that's crafted with their house-made turmeric syrup. Their food options are just as fun and vegetarian-friendly as well. Get yourself out of your house and appreciate the smaller things in life—or larger things, depending on what size drink you order!
5. Explore Davis Square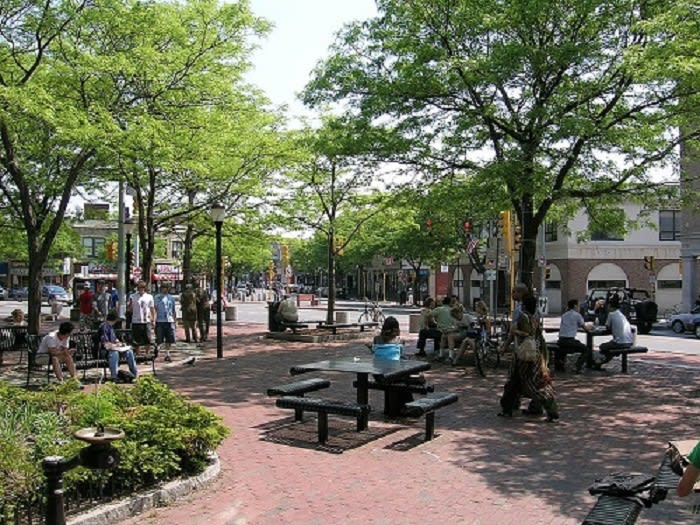 While you are sipping on your turmeric latte from Diesel, you can see what else Davis Square has to offer! The major intersection was designated a square by the city in 1883. Since then, it has developed into a vibrant hub of restaurants, shops, and nightlife! Whether you are here for a fun day of shopping with friends or looking for a hip new restaurant with your partner, Davis Square has got you covered! Their Buffalo Exchange has an ever-changing stock of unique thrifty clothing finds, and their outdoor dining options range from gnocchi from Posto to tapas at Gustazo Cuban Kitchen & Bar. With everything within walking distance, you can easily spend a whole day in Davis Square.
6. Fresh Pond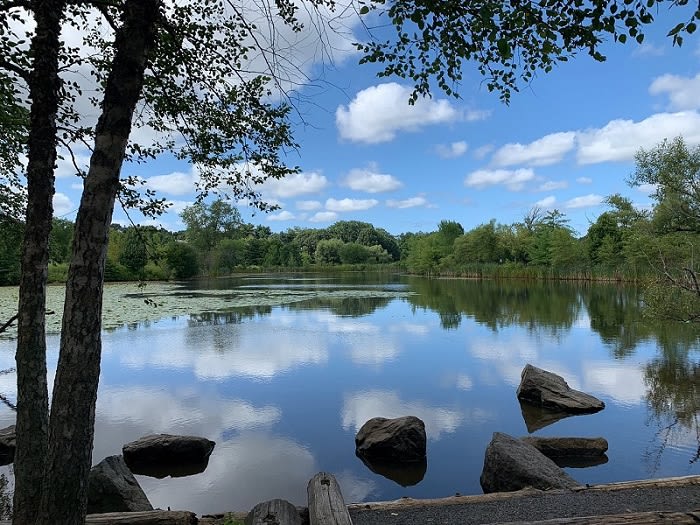 Just a short drive out of Somerville, Fresh Pond Reservation has a serene 2.5-mile loop trail for hikers of all skill levels to enjoy. Everyone in the family can partake in this hike—even little ones that still explore nature from the strollers' comfort. The path wraps around the fresh pond in question and even has a beach for your enjoyment. The trail is a favorite of dog walkers and dogs alike because of the broad fields to run around in.
7. Bow Market
Located in Union Square, Bow Market is a smart, innovative open shopping market with various artsy shops, dining options, and entertainment. Originally an empty storage building, Bow Market's 2-level public courtyard is now home to more than 30 independent retail, food, and art shops. Here you will also find a brewery, wine bar, and comedy club. Friends, couples, and families alike can easily spend a whole day exploring the unique offerings of this outdoor shopping experience. You can start your day off with pastries from The Biscuit, a husband and wife owned bakery.
8. Middlesex Fells Reservation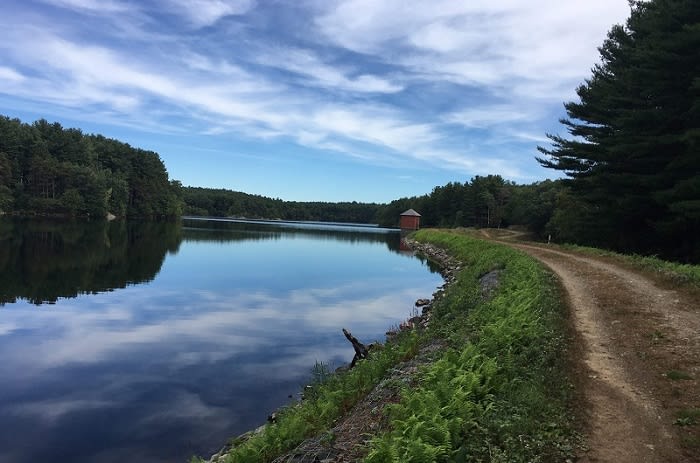 Locals refer to the Middlesex Fells Reservation only as "the Fells." This reservation has become a favorite hiking spot for a reason! Covering more than 2,200-acres, the Fells has ten trails that criss-cross through the reservation that vary in distance, difficulty, and scenery. This means that you can take multiple trips to the Fells yet still have more to explore! The Middlesex Fells Reservation is known to have been studied in 1632 by the Massachusetts Bay Company governor, John Winthrop. The land was used for producing timber, granite, and ice. To this day, you can still see remnants of old mills on the hike. With over 100 miles for you to explore, you can hike, mountain bike, horseback ride, and even do some cross country skiing during the winter months. Additionally, Spot Pond offers rowboats, canoes, kayaks, sailing lessons, and rentals in the summer. If you prefer a more relaxed day at the Fells, there are plenty of spacious picnicking areas to accommodate you!
9. SoWa Open Market
This award-winning market has been celebrating local art, food, and music since 2004. Each Sunday, hundreds of artists, bakers, farmers, brewers, and more gather to offer their creations to the local public. The SoWa Open Market supports an art market, a farmers market, food trucks, and a beer garden! Centrally located in Boston, this convergence of local businesses is just a short 15-minute drive out of Somerville! Walking through this market, you will get in all your steps exploring the live entertainment, DIY workshops, oyster po boys, beer trucks, and more.
10. Boston National Historical Park
The Boston National Historical Park is another way to get outdoors and a crash course in American history all at once. The park's 43 acres span across Downtown Boston, Charlestown, and South Boston. The park consists of eight historical landmarks, and seven of them are connected by a walking tour of downtown Boston called the Freedom Trail. You can choose to take a free Ranger-Guided time or explore the trail on your own with the assistance of the park's free app! You will get to see and learn about the Bunker Hill Monument, the Charlestown Navy Yard, Dorchester Heights (fortified by none other than General George Washington), Faneuil Hall (the site of many historic pro-independent speeches), the Old North Church, the Old South Meeting House, the Old State House, and the Paul Revere House. Talk about taking a step back in time!
11. Prospect Hill Park
Prospect Hill Park is home to the flag tower on which George Washington raised the first right American flag on January 1, 1776. The flag tower stands proudly and has stairs for you to go all the way to the top for an incredible view of Boston and the grassy field below. The inside of the tower is a view with its own merits, making the walk to the top all the more enjoyable. The grass field is large enough for a picnic or a friendly game of flag football. Located right in the heart of Somerville, this is one historic landmark you do not want to miss!

If you are looking to explore Somerville houses for sale, contact Currier, Lane, and Young today. As some of the top Somerville realtors, this talented trio serves a wide range of neighborhoods. Their expertise will guide you through the home buying process.